Santa Barbara


A look at the best of America's Riviera
| | |
| --- | --- |
| Santa Barbara calls itself the American Riviera, and it's not such a stretch. The climate is Mediterranean, it's sunny most of the time, and there's a big mix of open-air markets, seaside galleries and pedestrian-friendly streets lined with shopping opportunities. There is plenty of nightlife too, and all this takes place on State Street, Santa Barbara's main artery that runs from the Pacific Ocean through town. | Boyant Seals (photo by Steve Giordano) |
Don't forget the 100 miles of prime Pacific coastline, the thriving arts community and especially the scenic wine country inland from the city. Santa Barbara's main secret is that it sits on a unique east/west axis (the only stretch of land from Alaska to Cape Horn to do so), thus providing southern exposure year-round.

The architecture recalls the Mediterranean too - Spanish-Moorish with adobe and red tile. There is a self-guided Red Tile Walking Tour that covers a 12-block area of downtown, highlighting the city's most fascinating red tile roofed landmarks, including the Santa Barbara County Courthouse. In fact, for a real good look, take the courthouse elevator to the top.

In the early 1900s, Santa Barbara was the film capital of the world before the motion picture industry centralized in Hollywood. More than 1,200 movies (mostly Westerns) were made in a 10-year span and Santa Barbara became a favorite retreat for such legendary film stars as Douglas Fairbanks, Mary Pickford and Charlie Chaplin. With 92,000 residents, Santa Barbara is still home to many in the movie industry.

| | | |
| --- | --- | --- |
| Sculpture in an alcove of the Santa Barbara Mission | Checking the peppers... | A charter in the marina |

Shopping is a peach

There are more than 60 wineries in the nearby Santa Ynez and Santa Maria regions, plus specialty farms and ranches. One such ranch is the 10,000-acre Alisal Guest Ranch & Resort with 73 guest cottages, two championship golf courses and horseback riding facilities. It's a working cattle ranch located off Highway 246 on Alisal Road; 800/4-Alisal.

Visitors love to discover the intimacy of Santa Barbara. What follows is a small sample of things to discover.



Slipping into port
Karpeles Manuscript Library Museum

Santa Barbara has one of the eight free Karpeles Manuscript Library museums in the United States.
The Karpeles is "dedicated to the preservation of the original writings of great authors, scientists, philosophers, statesmen, sovereigns and leaders from all the periods of world history."

There are more than one million manuscripts in the collection, but they're usually shown in rotating exhibits of 25 or so at a time. On display in Santa Barbara is one by Leo Tolstoy written in 1904: "I am neither for Russia nor Japan, but for labouring people of both, deceived by governments and obliged to fight against their welfare, conscience and religion."

Probably the most valuable manuscript in the whole collection is Abraham Lincoln's Emancipation Proclamation. Another original is Pope Lucius III's Proclamation of the Holy Crusade on April 28, 1183. The Karpeles is located at 21 West Anapamu; (805) 962-5322.

Quicksilver Horse Ranch

So many people stopped on the road to see the miniature horses here, the owners opened the ranch to the public from 10 a.m. to 3 p.m. daily. While the miniature horses have about a 40-pound load limit for carrying, they can actually pull ten times their own weight. Males cost about $2,500 and the females cost about $4,000. Prices can go to $15,000 for special horses, and the owner knows of one that went for $125,000.

Ninety percent of the people who buy miniature horses as pets are not horse people, not experienced with raising and breaking them. So the breeder completely breaks the horses and provides them with lots of hands-on experience. Miniatures are higher strung than horses. There are about 150,000 miniature horses registered nationally.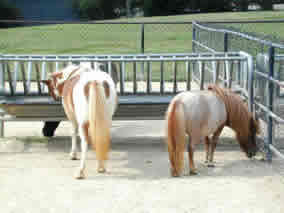 (Miniature horses at Quicksilver Horse Ranch. The horse on the right is 26 inches tall.)


Ponies have fewer vertebrae than horses, but the miniatures have the same number, so they truly are miniature horses. In the photo, the horse on the right is 26 inches tall. It's the smallest horse on the ranch. To be called a miniature, the horse must be shorter than 34 inches. Quicksilver Horse Ranch is located at 1555 Alamo Pintado Rd., Solvang, CA; 805/686-4002

Fr. Vincent J. Mesi, O.F.M., Santa
Barbara Mission pastor helping to
get the mission ready for the opening
night of the Old Spanish Days fiesta

Clothes washing basin built in 1808 by the Chumash Indians
of the Santa Barbara Mission village.

The mountain lion's head spout, by Chumash artisan, may be the oldest public sculpture in California

"Queen of the Missions," Mission Santa Barbara.


Celebrity sightings:

It seems like celebrities are everywhere in the Santa Barbara area, usually just before you get there. Jonathon Winters just finished his breakfast and left, Kevin Costner completed his shopping and went home, Jlo was maybe going to be married right over there. Oprah's new driveway was spotted on a recent trip, and Julia Child's nursing home too.

But then sometimes you could be in the company of celebrities and not even know it. On a recent trip to Santa Barbara, we took a day inland in the Santa Inez Valley to visit some wineries and a lavender farm. At the farm, two of us sat in the shade at a patio table while the others took off into the fields.

Out of the house comes this woman of an age in red hair and red shoes, all aflutter in some accent or other, which seemed to change a few times during the half hour we were there, asking who we were and what we were doing there. She forgot we were coming I guess, or it could have been an act. The others came back from the field and she got down to business. Her teenage boy fetched a gallon jar of pure lavender oil (distilled at Rona Barrett's lavender processing plant up the road).

She talked some about lavender, how whether you believe that Jesus' feet were washed with lavender oil or not, it HAS been around and used for thousands of years and that it's quite a healing facilitator. She said that a number of people who visit her farm (6 acres) are visibly unhappy and through her interventions they usually leave feeling a bit better. "Why just yesterday," she said, "a woman with cancer came to visit the fields, and she rubbed lavender oil into her scalp to make things better."

So, the sales pitch over, with me thinking I better get some of this stuff for my friend who's just gone through chemo, we migrated to the other area patio table laden with product.

She had said somewhere in the conversation that she was 57 and at that age after a divorce she had to find a way to make a living. I'm not sure a lavender oil stand at the side of the road would bring in much of a living, but she seemed happy. I heard later that she raised a few race horses out back and that she is the ex-wife of David Cassidy of Partridge Family fame. My source said, "Check out davidcassidy.com. Look up his family history - you'll see."

It seems like all things in Santa Barbara and the Santa Inez Valley relate to fame in one way or another. At our last winery stop of the day, a loud plane buzzed overhead, and without looking up, the winery owner said, "There goes Michael Jackson's plane." Apparently Neverland was just over the next hill. . .

Santa Barbara is located just 92 miles north of Los Angeles and 332 miles south of San Francisco along the Pacific coastline. Visitors can arrive via scenic Highway 1 or fly on Horizon Air direct from Seattle or Portland. Reservations: (800) 547-9308; Internet: www.horizonair.com.

For information on Santa Barbara and environs, call (800) 218-0881 or visit www.santabarbaraca.com.

Steve Giordano and Lynn Rosen
Photos by Steve Giordano