Getting There:
Depending on the U.S. departure city, flights are available to Rome or Milan on Alitalia, American, British Airways, Delta, KLM, Lufthansa, SAS, and TWA. The 1-800 phone numbers and Web links for these airlines are available at this magazine's Airlines page. Within Italy, Alitalia flights are available from Milan or Rome to Catania on Sicily's west coast or to Palermo on Sicily's northeast coast. Visitors will need a car to have the most options for their visit. Sicily has good efficient road system, with an autostrada that joins Palermo and Catania, and an autostrada that joins Catania and Messina. The train system in Sicily is relatively limited. Phone numbers and Web links for major auto rental firms in Italy are available at this magazine's Autos page.

Staying There:
With the broad array of information available on the Internet, it is relatively straight forward to find lodging in or near Cefalu and Taormina. A stay at Il Vecchio Frantoi, the agriturismo, is well worthwhile if you have an interest in the Sicilian farming traditions. It is within a half hour's drive of Cefalu. If you are looking for a relaxing spot outside of touristic Taormina, Hotel Baia Taormina is strongly recommended. The Eyewitness Travel Guide to Sicily is our recommended guidebook. For other mainland destinations in Italy, Rick Steves Italy is strongly recommended.

Fast Facts:
Sicily lies at the heart of the Mediterranean and is its largest island. It is also Italy's largest region (10,000 sq. miles) and the third most populated with more than five million inhabitants. Busy Palermo is the capital with a population of 700,000. Mount Etna is the largest active volcano in Europe, and it dominates the western coast. Sicily's varied history includes mnay conquerers: Greeks, Romans, Byzantines, Arabs, Normans and other French dynasties, various Spanish dynasties, and the Italian Garibaldi dynasty in the 1800s. Today, Sicily is catching up with the 21st century while still holding onto its traditions. A great time of year to visit the island is late spring or early fall, with good weather and fewer tourists than summer.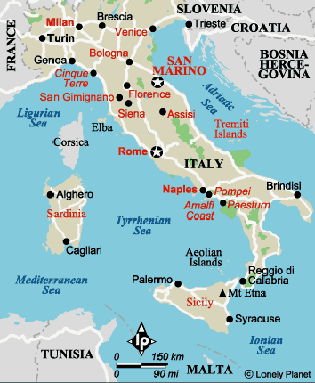 Italy -- Courtesy: Lonely Planet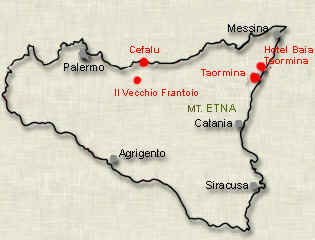 Sicily -- Courtesy: Hotel Baia Taormina