Getting There:
Depending on the U.S. departure city, flights are available to Rome or Milan on Alitalia, American, British Airways, Delta, KLM, Lufthansa, SAS, and TWA. The 1-800 phone numbers and Web links for these airlines are available at this magazine's Airlines page. Within Italy, Alitalia flights are available from Milan or Rome to Naples. If you have other Italian stops on your itinerary, a good alternative is to take the train (see web link below). Driving is only recommended for the traveler with enough time and patience with the Italian road system. Phone numbers and Web links for major auto rental firms in Italy are available at this magazine's Autos page).

Staying There:
With the broad array of information available on the Internet, it is relatively straight forward to find lodging in or near Sorrento, a perfect base for Bay of Naples explorations. Lodging Web sites are listed below. We had a good experience staying at the Hotel Minerva, just outside Sorrento. Also Rick Steves Italy is an excellent source of Sorrento lodging recommendations.

We utilized to good advantage Rick Steves Italy for its suggestions on visiting and enyoying Sorrento, Capri, Pompeii, and the Amalfi Coast. It is recommended to take advantage of the public transportation in the region. Driving is generally difficult and congested. Sorrento is served by train from the Naples train station (last stop on the Circumvesuviana route, 90 minutes from Naples). Pompeii is about half-way between Naples and Sorrento on the same train route. Ferries leave frequently throughout the day between Sorrento and the Isle of Capri. Buses also leave several times a day from the Sorrento train station to the Amalfi Coast.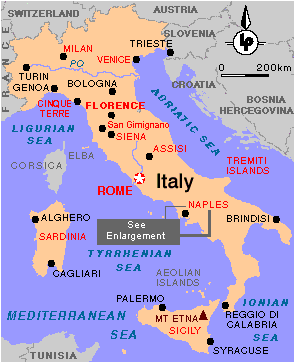 Italy -- Courtesy: Lonely Planet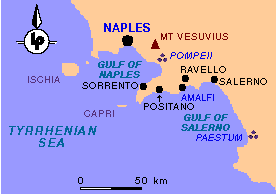 Bay of Naples area -- Courtesy: Lonely Planet