Staying There:
With the broad array of information available on the Internet, it is relatively straight forward to find bed and breakfast (chambres d'hotes) or hotel rooms in Provence's towns or in the countryside. For example, we stayed at a wonderful inn in the countryside on Ile de la Barthelasse, in the middle of the Rhone River, across from Avignon, only 10 minutes drive from the center of Avignon (Ferme Jamet).
In Aix, we stayed at a central hotel, Grand Hotel Negre Coste, on Cours Mirabeau. It had reasonable pricing and an excellent location for feeling the pulse of Aix.
See the WWW links below for other lodging ideas, as well as general information on Provence.
We utilized to good advantage a number of useful guide books for our stay in Provence, including Rick Steve's France and Frommer's France.
A fun book recounting the experience of a new settler in Provence, Peter Mayle's A Year in Provence, makes good reading. Other travel books on France and Europe are also available in the Travel Book Store.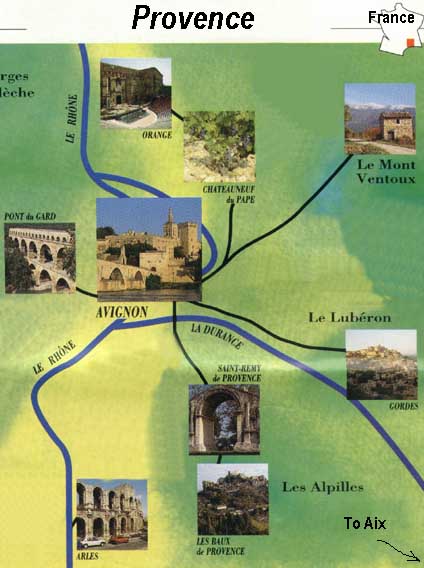 Courtesy: Avignon Office de Tourisme